Short term furnished rental, Allston / Boston, MA 02134. | or VIEW OTHER PROPERTIES
Beautiful short-term furnished studio apartment in Allston - Walk to BU or Harvard Symphony Suite 1 bed | 'Studio 3' South End | Carlyle Penthouse 1 bed

HAVE A LOOK: Take a virtual tour - click here --- >
Call the owner: (617) 958-1456

Private Apartment In this owner-occupied 3-family Victorian house on Royal Street
- Short term furnished apartment. Private vacation rental, corporate rental or short term rental.
- Wireless Internet access included.
- Heat - A/C, Water, Electric etc. included
- Quiet, clean, and close to everything in Allston
- 7 minute walk to Harvard Business School
- 10 minute walk to BU's most westerly campus
- Virtually No traffic noise. Birds in the summer, crickets in the fall.
- Coin-Op Laundry in basement
- Free on-street parking with no permit required.
- Possible garage parking available by the week [$50 per week] currently booked
- Close to the new Allston library and Library Park
- Easy access on and off the Mass Pike
- Near Charles River - Charles River Park
- Walk to the supermarket, Star Market and Stop and Shop
- Walk to Restaurants/ Bars in Allston Village and Harvard Square
- Walk to Green Line, 10 minutes / (Red Line) 15, or take Bus #66, 64, 86, 70, 71 , 57, 501 or 503.
- Use this MBTA Trip Planner to find out how to get to where you work from 51 Royal Street.

Everything was renovated recently with:
- Refinished floors
- Ceramic tile floor in the kitchen and Bathroom
- Slate counters, new cabinets, nice dishwasher, disposal, radiant stove, convection oven, refrigerator.


Short term rental rates are: (during some dates and seasons, rates may vary)

Month $3,450 BOOK Here
Week $973-$1395 BOOK Here
----------------
Per Night $115 - $249 (3 night minimum stay) Get a Rate Quote Here

HAVE A LOOK: Short term furnished -Take a virtual tour - --->
----------------
Interested in booking a short term rental?
Call me now 617-266-8998 Richard or 617-787-4944 - for Victoria.
You can also email and put "Royal Street Studio" in the subject line.
richard@royal-street.com. We are the owners. You will always deal
directly with us - we are easy to reach & we live downstairs.
REVIEWS: Also See On: Google Roomorama AirBnB VRBO
"A very enjoyable and relaxing stay at Royal Street Studio. In a quiet, residential area, the studio is only a short walk to Harvard Square and Allston village either side. It is clean, comfortable and well-equipped, and it is reassuring to know that Richard is always on hand to help if any problems or queries arise."

Thomas and Nicola
From Cheshire, U.K.
Rented through roomorama.com

"Richard and Victoria were the best hosts. The studio was immaculate and exactly as promised. The information package helped prepare us for the stay. A lovely neighbourhood - close to the metro and other great stores and restaurants. If not for the alarm clock we could have spent the entire day in bed (it was so comfortable!!!). The kitchen was more than well equipped especially for someone who used to be a chef. Thank you again for a wonderful vacation. We'll recommend this place to friends and if we ever return to Boston will stay."

Heather M.
From Toronto, Ontario - Canada
Rented through VRBO.com

"Extremely professional! When we arrived, my boyfriend and I were very pleased
with the cozy and comfortable studio apartment, that looked and felt newly renovated.

We were especially delighted with the thoughtful amenities that Richard left in our
rooms (including shampoo/soap, which we had forgotten to bring along, and the
bread, butter, cereal, hot chocolate and other goodies in the kitchen).

If you're visiting Boston and want to feel like you're living here rather than being
another a tourist staying at a hotel, this is the place to come!"

Rented through airBnB.com

"I have stayed at the Studio apartment from 27th May until 2nd June 2011.
It was a very good experience for me and my wife. The hosts Richard and
Victoria were extremely helpful and courteous to us during our stay there.
I would return to stay in this apartment whenever I visit Boston in the
future. The place is very clean and the location is superb for tourists."

Thank you
Zulkifli and Tengku Rugayah
From Kuala Terengganu, Malaysia
Rented through roomorama.com


"The place was perfectly clean and pleasant. All seems to be brand new and well organized. It has been a real pleasure to stay in that studio and really useful to get to the Harvard campus by walk or bus. The hosts have been very helpful and available at every moment. I'll highly recommend this place for a week or more."

Christelle - Paris, France
Rented through airBnB.com

"The studio is very compact yet complete - immaculate and well appointed. We especially appreciated the fresh flowers and "starter" kit of necessities and food. The location is ideal: we walked to a large grocery store, bank, library, bus and trolley lines, many restaurants, Harvard and Central Squares. The hosts, Richard and Victoria, are very accommodating and generous. We definitely plan to go back."



Dan and Elaine


- Tucson, AZ
- Review of Stay June - July 2011
Rented through craigslist.org

"My husband and I stayed in the studio for a week at the end of July 2011. Richard and Victoria were exceptional hosts, very attentive and went out of their way to make sure we had everything we needed. Thank you for the gifts of food, wine, beer. Correspondence for booking was prompt and professional (good communication skills). The studio was comfortable, very clean and well equipped. The location was great, easy to walk to subway and many restaurants nearby to choose from. We were a little concerned that it would be noisy because of the proximity to the highway, but it is quiet and you don't hear it from their house. All in all, it was better than I expected. We would definitely go back there again."

Ghislaine
Ottawa, Ontario - Canada
Rented through VRBO.com

"We had a great stay at the studio. I highly recommend it. Within 10 minute walk of the T-lines. Did not need a car. Visited 4 universities. Per Richard's recommendation, We ate at Le's Vietnamese restaurant. Great food. Alfredo's has a great Italian food. We will go back when we visit Boston again."

Dee R. ,Georgia
Review of Stay: April 12, 2012
Rented through VRBO.com

"Thank you for a wonderful stay.

The Studio is super clean, has all the necessary amenities, and has a beautiful back garden, where we enjoyed having meals outside. The hosts, Richard and Victoria were very welcoming and kind, helped us to carry our heavy baggage up and down stairs.

We are very grateful. We hope we can come back in the future and we would recommend everybody to stay here!"

Yui
Cambridge, MA
Rented through roomorama.com April 25, 2012

"We found the studio to be compact and very comfortable - the bed was exceptional. It was a pleasure to find everything as described on the website. All equipment, utensils etc were available and everything spotlessly clean. Victoria and Richard were wonderful hosts and ready to answer any queries. The information booklet provided a helpful run down of the area. We would definitely recommend a stay at the studio."

Colin and Zandra D.
Melbourne, Australia
Review of Stay: June 1, 2012
Rented through

FLIPKEY.com

"This Studio has to be in our top 5 vacation stays we have had.

The neighborhood was comfortable to walk both day and night with many beautiful well kept yards, still within easy accessibility to all of Boston and its surrounds. The Studio, a 3rd floor walkup was even more comfortable than the neighborhood, everything someone would need for either a short or long term stay.

Victoria and Richard are the epitome of hostess and host, like that perfect waiter who doesn't hover, yet is always there for the smallest of needs! We will definitely be repeat guests when back in Boston, if this little gem is not booked."

Brian B.
Baltimore, MD
June 11, 2012
Rented through

AirBnB.com
----------------
Would you like to know more about Royal Street?
Here is the Royal Street website: http://royal-street.com
----------
Are you from out of town? Allston is West Boston, a part of the city of Boston. Allston is connected to Back Bay and Fenway neighborhoods by Commonwealth Ave., Storrow Drive and the Mass. Pike [90]. As you move from Back Bay to North Allston, or Lower Allston as it is sometimes called, the houses change from traditional brownstone row houses to a mix of 1880 - 1920 Victorian wood houses.

The short-term rental calendar is below. Before booking your short term rental at the Royal Street Studio
please check the calendar below to be sure your dates are free. Vacation rental and short term rentals
book up quickly, so if you are interested, please contact me as far in advance as possible.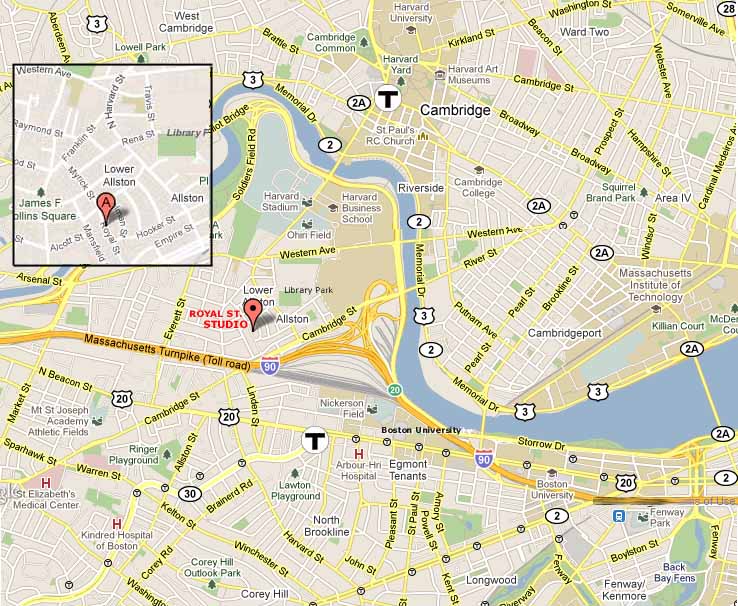 Studio Line to Owner - Call (617) 958-1456
TO BOOK ONLINE USE THIS BOOKING FORM
Site last updated: October 5, 2012
Richard and Victoria also
manage the Symphony Suite
& 17 Greenwich Park Studio 3
REFERENCE#

Cleaning Schedule